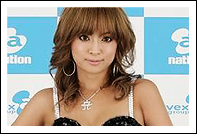 Date: 28th August 2006
Venue: Tokyo
Source: 1, 2
Credit: walt1112 at AHS, Dez at ILA.



Article Translation

Main

The Japan outdoor touring concert A-Nation 2006 ended at the Tokyo '味之素' Sporting Hall. Ayumi Hamasaki, Koda Kumi, Otsuka Ai and other current top hit Japanese artists performed to more than 50000 fans in the hall. Once again they made a crazy music festival for summer.

This time A-Nation lasted for a month and toured in 5 majors cities with 7 sessions. Press from Beijing, Shanghai, and other places from China came to see this great event's ending. Avex Trax, the organiser of this event, held a meeting for the Chinese press before the 1st tour session. Seven top artists and groups; Ayumi hamasaki, Koda Kumi, BoA, Otsuka Ai, ELT, Suzuki Ami and TRF came into the spotlight in this meeting.

In this meeting, these 7 groups of artists represented more than 20 other artists who attended A-Nation 2006. Besides greeting the Chinese press with smiles, they talked about their feelings of participating in A-Nation, and also sent their regards to their chinese fans. They also shown hope in China's future business developemnt.


Ayumi Hamasaki

The 'Trend-setter' and Asia music's super idol not only broke records in the music history, but also became the person who is extremely fashionable and chic.

Since her debut in 1998, she published more than 40 singles, 8 albums, 16 remix albums, and 2 best albums. Ayumi hamasaki's total sales in singles broke through 20,000,000 copies sold with a continuous #1 chart hits of 15 singles (27 in total). She participated the Kouhaku singing contest as a guest for 7 years.

At the same time, Ayumi Hamasaki crossed over between trend and music industries, receiving various prizes including the Japan Gold Disc award (3 years continuous), Best Nail Queen (3 years continuous) and Best Jeanist (3 years continuous). She became a milestone artist for the entire Asian Music industry.

Ayu who appeared to be really modest and gentle in front of the cameras, said she was really grateful to her audience and that she is looking forwards to her upcoming Asia Tour. According to Hamasaki, she is going to work harder to enlarge her asian market and fanbase. Her tour is almost 80% confirmed. She will hold her personal all-Asian tour in the following two years.

This is avex's first time holiding a conference with only the Chinese media - this indicates that avex is trying to enlarge their market in China too.




Conference Photos


Setlist

Startin'
UNITE!
SEASONS
A song for XX
evolution
Boys & girls
BLUE BIRD







Performance Photos