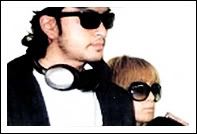 Date: 1st October 2006
Venue: Narita Airport
Source: 1, 2
Credit: Rody!, truehappiness, immel at AHS Wincy at ILA



Ayumi Hamasaki and her boyfriend, Tomoya Nagase were spotted together at Narita airport after spending a vacation together at Los Angeles.

This short article describes their relationship till now:

Actually, this seldom-witnessed relationship has always had a rough time. Ayumi and Nagase first knew each other when they worked together on the TV drama "Twins" in 1993, and the relationship developed from there. By 2001, when their relationship was uncovered, Ayumi had already become avex's top girl, and their respective companies could only watch as the relationship developed. However, their love life has also been disrupted many times. In 2004, Ayumi wanted a marriage, but due to Nagase's declining popularity and the upheaval of the management at avex, Ayumi had to give in to keep the company afloat, so the marriage was delayed. However, rumours that followed of the two's break-up were false.

Also here's something about their vacation and a rough translation of the article.

Hamasaki Ayumi (28) and Nagase Tomoya (27) were hand in hand at Narita Airport yesterday on their return from Los Angeles. Pop diva Ayu spent three weeks in the U.S. in the recording studio and doing interviews, while Nagase joined her after finishing a tour with Johnny's group Tokio on September 15. It's been five years since they first revealed their relationship, and they've refused to speak publicly about it since.

...Ayu.. LoveLove homecoming was taken Nagase.

They returned home from USA -Russian Sanzels by the JAL jet of the New Tokyo International Airport, Ayumi Hamasaki (28) Tomoya Nagase (27) of popular group TOKIO. It is an exception that two people shows the appearance to a public place by the two-shot when they are spending some private time. It looked for association gone as the firm do clasp of the hand etc. each other though only the expression was hard in the airport. Noteworthy important person couple after association is clarified in September, 2001. Do you rush into the countdown stage the marriage? Did the clasp of a large-scale couple of spectacle society 1 of its hand firmly did not worry about a surrounding glance at all each other.

Two people were finished the flight of about 11 hours at 4:39PM of the first and arrived at New Tokyo International Airport. Two people who showed the appearance from inside the plane firmly drew his body in the interior of the guard of about ten staff though it seemed to have been surprised at the flash of an unexpected camera and he or she showed seemed a little ill-humored pretend each other, and it walked about 50 meters to the customhouse at a quick pace.

Nagase was behavior to pass the face enough with the towel to prove a deep relation between in the noise of the person who happened to be in the place as it concealed and it had in, it walked in, and casual consideration with the bag was shown and two people though the mouth did not have to be opened to the question from reporters at all.

It stays recording new and working about the coverage of the magazine etc. in the United States for about three weeks in the beginning of September of. However, when visiting America, it leaves alone. Nagase operated a tour until September 15, and seems to have enjoyed off between hilts because it visited America afterwards, it joined in the locale, and it sewed the interval of work.

It is extremely unusual that two people show stately the appearance in a public place. The appearance that becomes complete is thoroughness of two person musical programs other than "NHK Red and White New Year's Music Special" such as avoiding as much as possible though a part of two-shot has been obtained by the photograph magazine etc.However, the appearance that appeared hand in hand in a dignified manner looked for a near reaching the goal to say nothing of the catastrophe this time though the catastrophe theory had flowed from the appearance the other day together by TV Asahi system "Music station".

Co-starring of TV Asahi system drama "Teacher Twins" met two people with Kiccake in 1993. In CM symposium in August, '01, association of the ring of left ring finger is declared by revealing the lover's existence, and sending mass communications the autograph fax in September , saying that "Got it from him". Association by official recognition was continued in a dignified manner as it put on accessories of the pair, and "Cohabitation life" had been reported in the photograph magazine the other day at the following though association was not said.

Birthday of 28 years old and two. Nagase also : to 28 years old on November 7. There is no one that shines in left ring finger on this day the trend of two people is paid to attention because the entertainer who does "Have one's name registered on the birthday" is coming out one after another though parties concerned are negative, "Do not marry still".

- Ayumi Hamasaki. Fukuoka Prefecture birth on October 2, 1978. 28 years old. It acts from infancy as a model in Fukuoka. It debuts the actress by TV Asahi system drama "Teacher Twins" in 93. It debuts the singer in April, '98 "poker face". The female singer's successive record is repainted one after another, and it wins in Japanese Japan Record Grand Prix first-ever 3 years in a row in 2001. 157 centimeters. Blood type A.

- Kanagawa Prefecture birth on Tomoya Nagase, November 7, 1978. 27 years old. It debuts as vocal of TOKIO in July, '94. Thereafter, it widely takes an active part with television, CM, and the stage. It debuts the movie by action "Seoul" of the Japan-South Korea collaboration in 2002. "Ikebukuro waist gate park", "White line sink", and "Muco ..television most important work... ", etc.It participates in Red and White New Year's Music Special. 12 times185 centimeters and 66 kilos. Blood type O.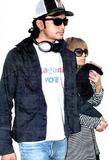 Media photos

In short it seems that Ayu went to LA for some recording and for some magazine photo shooting since early September. Nagase then went to join Ayu after the TOKIO's tour on the 15th Sept.

On the 2nd Oct, Ayu becomes 28. Nagase will also becoming 28 on 7th Nov. However, Ayu did not have any "shining thing" on her Ring finger. Some "related" ppl claim that "they still could not get engaged". But since there is a trend of artists getting engaged on their birthdays, media will still keep their eye on the couple.